3.1. General mortality pattern


From January 2016 to April 2020, between 69,000 and 107,000 people died in Germany each month, more during the cold season, especially in the flu season, and fewer in the summer, with the exception of extreme heat periods.
15
3.2. Deaths in Germany between January and the end of April 2020
As can be seen particularly clearly from the European Mortality Monitoring (EuroMoMo) charts
8
, mortality was unusually low this flu season, unlike the 2016/17 and 2017/18 flu seasons.
(
https://www.euromomo.eu/graphs-and-maps/
; diagram for Germany, bulletin week 20/2020, consulted on 15/05/2020. At the time, only Berlin and Hesse participated in EuroMoMo.)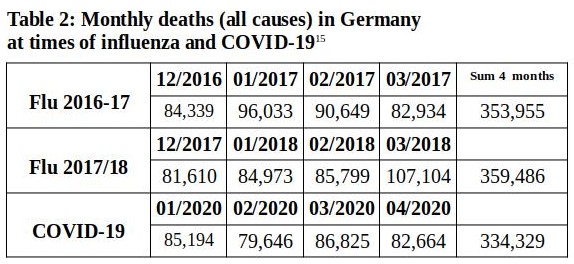 The death rate in Germany during the period from January to April 2020 is unchanged and is below what happened in previous strong flu epidemics in which no extraordinary measures were taken.
The Federal Statistical Office (Statistisches Bundesamt) states a slight excess mortality from the last week of March to the second week of April.
16
So far (05/06/2020), the statistics are only available up to 10 May 2020. In the 19th calendar week, the number of deaths was no longer above average.
17
The nationwide German official statistics are usually published with a time delay of 5 weeks. Corrections - as is constantly the case with the Spanish statistics, which are published at very short notice - and updates are therefore still to be expected.